Affecting up to 10% of the population, rosacea has no known cause. Stress, autoimmune side effects, and undiagnosed allergies might be culprits for the skin condition.
The illness itself isn't life-threatening. Flare-ups can lower your self-confidence and interfere with relationships. Rosacea flares can be treatable though. Using essential oils for rosacea offers you a holistic approach that can also nourish your skin and potentially to the treatment for rosacea. Source: US National Library of Medicine
What Type Of Rosacea Do You Have?
The Four Subtypes of Rosacea are:
Type One—most common and prone to flushing, redness, and visible blood vessels around the cheeks and nose
Type Two—acne prone and sensitive skin with flushing, redness, and visible blood vessels around the cheeks and nose
Type Three—edema prone, thickened skin around the nose, redness, flushing, and visible blood vessels more around the nose and possibly the cheeks too
Type Four—ocular rosacea as it surrounds the eye area
Knowing your type narrows down the list of essential oils used to alleviate your rosacea symptoms. For example, if you have type two, you'll want essential oils with anti-microbial and anti-bacterial properties to reduce and treat acne-prone skin. For all types, you should consider anti-inflammatory properties.
Natural remedies might help reduce your symptoms when used daily and/or to treat rosacea and acne. You could use one method daily and use another for your flares too. Most remedies can be used together without harming your skin or further aggravating it.
What are the Benefits of Essential Oils?
Essential oil use offers minimal to no side effects, and you can use them in conjunction with traditional treatments. You have the option of applying essential oils topically, using an ultrasonic diffuser, or using aromatherapy to reduce stress. Of course, you can do all of the above too.
Common Essential Oils Used in Skin-Related Natural Remedies:
While using any of the following oils won't right away cure rosacea, they can greatly diminish your visible symptoms. One notable point though, you truly should consider rethinking your entire skincare routine and taking a more natural or holistic approach to your beauty care.
Geranium essential oil
Tea tree essential oil
Ylang-Ylang essential oil
Rose Hip essential oil
Lavender essential oil
Roman chamomile essential oil
These essential oils share healing properties that might improve the symptoms of rosacea and flares.
Anti-microbial
Anti-inflammatory
Anti-septic
Anti-bacterial
Antioxidant
As with any essential oil, you want the purest product. Essential oils don't require a process to ensure their product is a true essential oil. Many are nothing more than fragrance or diluted oils. The easiest way to spot a pure essential oil is to buy USDA Certified Organic oils, varieties that have undergone independent third-party testing, or that use terminology like wild-crafted.
Best Way to Use Essential Oils?
Rosacea might have no known cause, but stress is a major factor when it comes to flare-ups. The best method will be the one that works for your skin. With rosacea, some people find aromatherapy reduces or eliminates their symptoms whereas others see greater benefits in applying essential oils topically to their affected areas. Many more use both methods.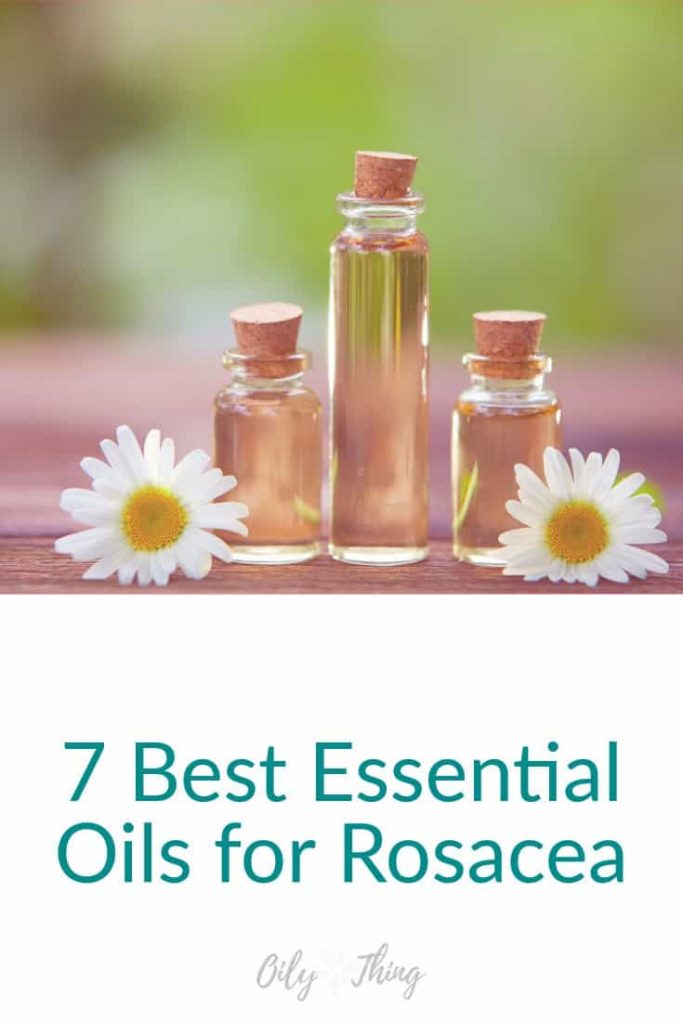 Prerequisites to Using Best Essential Oils For Rosacea Treatment
Remember, just because essential oils are natural doesn't mean you can't have a reaction. Facial skin is delicate. Performing a patch test can rule out problems. Swab a small area, such as inside your forearm, and wait 72 hours to see if you have an allergic reaction. Perform this step with your carrier oil and then again with your carrier oil containing your chosen essential oils.
Choosing your perfect carrier oil is necessary. Carrier oils should be suitable for your skin type since you don't want to clog your pores or cause more inflammation. Heavy carriers, such as olive oil and coconut oil, work well for dry skin, but sensitive, combination, and oily or breakout-prone skin will want to choose a lightweight oil like jojoba. Sources: Cosmopolitan, Pronounce, annmarie, Herbal Academy
While not a prerequisite, you should consider rooting out any underlying causes and triggers. This can be difficult for you to pinpoint. You might never discover what causes your rosacea, but you can bring triggers to the surface.
Essential Oils Controversy
Essential oils come under fire constantly, but multiple European studies suggest there is merit to this timeless tradition. American standards tend to lean toward conventional treatments, and doctors can be hesitant to recommend essential oils to their patients because the FDA doesn't regulate them and because no large scale studies have been performed. However, most sources unsupportive of essential oils as treatments do retort they are safe to use as directed. References: FDA, Live Science, Taking Charge
Recommended Essential Oils and Carrier Oils for Rosacea Flares
Many of our recommendations can perform well with a single carrier or in a custom blend. Please keep in mind that your skin is uniquely yours, so what works for one person might not work for you.
---
Properties: anti-inflammatory, astringent, antibacterial, and antimicrobial
US Organic offers only organic oils and outsources from organic farms to ensure you receive quality, pure essential oils.
Certified USDA Organic
Pros:
Potent and a little goes a long way
Pleasant floral scent
Steam distilled
Cons:
Small bottle
Doesn't include a dropper-style cap
---
Properties: Tea tree oils have antibacterial, antifungal, anti-inflammatory, and antiseptic
Eve Hansen essential oils allow you to know the concentration percentages. Few companies share this information because it allows them to hide impurities and additives. Even though these products carry a USDA Organic Seal, the company will still provide you with their laboratory data.
USDA Organic Seal
Made in USA
Steam distilled
Pros:
Pharmaceutical grade
Certified USDA Organic
Dropper-style cap
Cons:
The strong scent that reminds some people of pine cleaners
The cap style isn't ideal for long-term storing
---
Properties: antioxidant, antiseptic, and anti-seborrheic
Gya Labs offers USDA Certified Organic oils and they outsource from USA-based and foreign organic farms.
Certified USDA Organic
Pros:
Unisex floral-fruity fragrance that isn't overpowering
Steam distilled
Cons:
---
Properties: antibacterial, anti-inflammatory, and antiviral
Perfect for Aromatherapy and Relaxing Ambiance
Therapeutic grade
USDA Certified Organic
Pros:
A little goes a long way
Anti-tampering cap
Cons:
Need to add a bit more drop to get the desired smell
---
Properties: anti-inflammatory and antibacterial
Artizen wild harvests, steam distills, and bottles their line of products to ensure each step is unaltered from its purest form. Any herb or flower they don't grow comes from an organic source.
USDA Certified
Pros:
Cons:
A built-in dropper can be inconvenient
Carrier Oils
You can use these alone, combine carriers, and/or use them with essential oils. While our essential oil guides usually don't include carriers, these two offer exceptional benefits to skin conditions like rosacea; without recommending them this guide would be incomplete.
---
Properties: antioxidant vitamin A, C, and E, essential fatty acids, and anti-inflammatory
Kate Blanc Cosmetics began as a passion. Now her organic and natural skin, hair, and beauty products are available worldwide.
Certified USDA Organic
Cold-pressed
Can be used as a carrier oil or alone
Pros:
Nutty, warm fragrance
Dropper style cap
Multiple sizes
Cons:
Some might expect it to smell like roses, but it doesn't.
---
Properties: hypoallergenic, noncomedogenic, antioxidant, antibacterial, anti-inflammatory, and antifungal
Cligantic provides a customer-lead experience by encouraging your feedback and using it to improve their products. They also strongly urge and support a healthy, natural lifestyle.
Vegan and cruelty free
USDA Certified Organic
Unrefined
Pros:
Dropper-style cap
Hexane free
Cons:
---
Best Essential Oil To Help With Rosacea Naturally
Choosing one as the absolute best is difficult, but if I were treating my own rosacea, I would choose Roman Chamomile Essential Oil by Artizen because it's suitable for treating all types of rosacea and gentle enough to use around the eyes.
Anti-inflammatory and anti-bacterial properties are two major properties an essential oil for rosacea should have as one can reduce redness while the other wards off pimples and blackheads. If you combine it with jojoba oil, you have the basis for an almost all-in-one serum for your facial care needs during your rosacea flares.
Remember, don't be afraid to experiment until you find a ratio or combination that works for you. You also don't need to stop treating the cause of rosacea flares. Using a natural, holistic approach to skincare and beauty makes a healthful treat for your skin in order to avoid any inflammatory skin conditions.
What is rosacea?
Rosacea is a chronic inflammatory skin condition that usually affects the skin of the face. The main symptoms of rosacea are facial flushing and dry, irritated skin. This can cause stinging and a tingling, burning pain. Other symptoms may include pimples or blushing more easily.
What are the best essential oils for rosacea?
Essential oils are a popular home remedy choice for natural skin care treatments. Some of the best essential oils for rosacea include:
1. Lavender Essential Oil: Its anti-inflammatory properties gently calm down the irritation of rosacea-plagued skin
2. Tea Tree Essential Oil: As part of a rosacea treatment, it fights the skin's tendency for inflammation
3. Cypress Essential Oil: It has anti-inflammatory and antiseptic properties that help to reduce redness and inflammation
4. Chamomile Essential Oil: It contains potent anti-inflammatory and antioxidant properties that help to soothe and calm irritated skin
5. Helichrysum Essential Oil: It has anti-inflammatory, antifungal, and antibacterial properties that help to reduce inflammation and redness
How do I use essential oils for rosacea?
Here are some ways to use essential oils for rosacea:
1. Add to Regular Facial Moisturizer
2. Make Your Own Rosacea Skin Moisturizer
3. Use A Rosacea Face Mask
If you're interested in learning more about essential oils for skin care, you can check out OilyThing's article on the best essential oils for boils. It provides a comprehensive guide on how to use essential oils to treat boils and other skin conditions. I hope you find it helpful!