Nebulizing diffusers for essential oils provide homeowners with an aromatherapy solution for purifying and cleansing the air around their living areas.
When shopping for a nebulizing diffuser, consider picking one that uses no plastic, water, or heat to deliver essential oils and fragrances into the air where you place it.
This allows you to receive the benefits of owning a diffuser without interfering with the air's moisture content around your home.
Table of Contents
Useful Information About Nebulizing Diffusers
Nebulizing diffusers work by slowly releasing essential oils and fragrances into the air in the form of atomized particles. They come in a wide variety of scents to pick from, some of which provide aromatherapy solutions to help you relax.
Nebulizing diffusers work better than normal diffusers because they contain a high concentration of natural oils and fragrances, and they don't use steam to deliver the oils and aromas.
Since they don't use water, the smells are not diluted, and they don't add moisture content to the atmosphere. They are not the same as ultrasonic diffusers, which use steam to deliver aromas to the air.

Benefits of using nebulizing diffusers for Essential Oils
The use of nebulizing diffusers trumps other kinds of diffusers like ultrasonic diffusers because they don't require water, so they have a compact design. They are small and can fit into small spaces.
The compact design also enables manufacturers to design nebulizing diffusers with extra features like LED lights that allow for multipurpose use. They can also build advanced functionality such as automatic shutdown into the diffusers.
Nebulizing diffusers also have large area coverage that averages about 800 square feet. This is because they release lightweight particles into the air that travel fast and remain suspended in the air for extended periods. Nebulizing diffusers are fairly new in the market, and some manufacturers hire affiliates to help them market them, rewarding their efforts with a small commission.
Things you should consider when purchasing a nebulizing diffuser for Essential Oils
Room coverage
The diffuser comes with room coverage limits, which guide you on the room size so that the diffuser can effectively supply essential oils into the air.
This ranges from about 400 square feet to about 1000 square feet. We advise that you have the room where you intend to use the diffuser in mind before buying one. Make sure that the room size is within the room coverage limits of the diffuser.
Mist adjustment
Many diffusers offer you a chance to control the amount of mist emitted from the essential oil diffusers at a particular time. Mist adjustment is an important feature because it allows you to adjust the aroma's density and essential oils' contents in the air.
You can also set the diffuser to release short bursts of concentered contents or a slow, steady stream of the contents, thus giving you varied therapeutic benefits.
Run time
The nebulizer essential oil diffuser releases oils and aromas when in operation. Different types of diffusers work differently, with some releasing the therapeutic aroma in short bursts while others continuously release it.
For the diffusers that continuously release, you need to observe the manufacturer's runtime instructions when purchasing the diffuser. Running the diffuser for too long can have negative effects instead of positive ones because you will be breathing in air that is too concentrated.
Noise levels
Most diffusers use electric motors to run the fans that propel the mist and aromas into the air. The motors produce some noise levels when in operation, especially on diffusers that have wide area coverage.
The noise level in most cases is negligible but could cause a disturbance, especially when you want to use the diffuser in a quiet environment, such as your bedroom.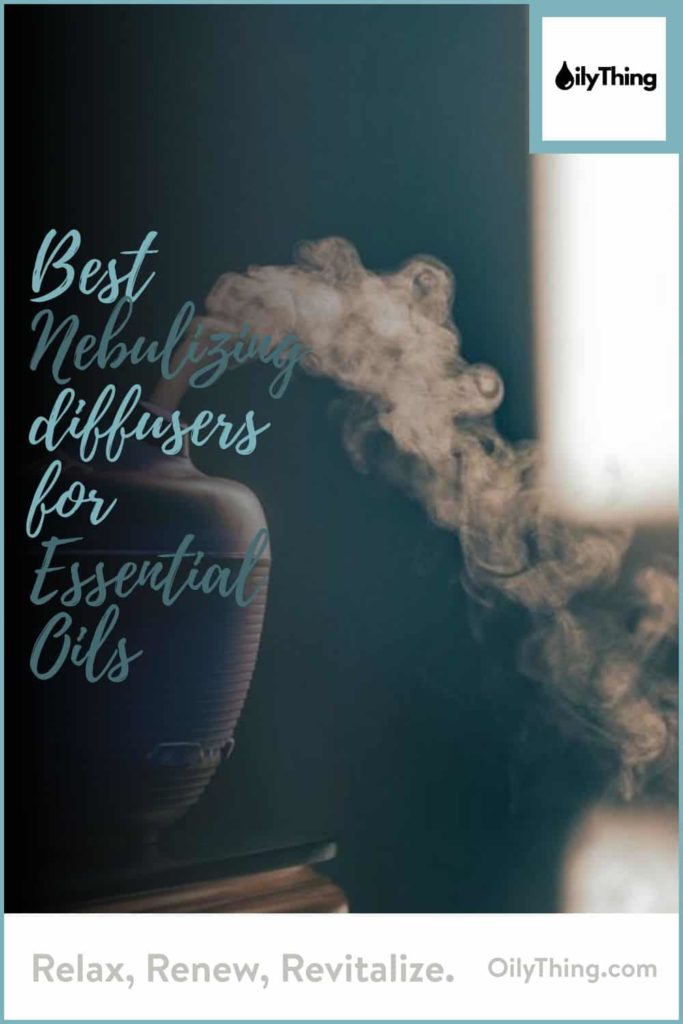 Automatic shut down
Nebulizing diffusers that shut down automatically after releasing enough contents into the air better prevent over-concentration of aroma and fragrances in the air.
If you buy one that does not have an automatic shutdown, you need to keep checking the time it runs. The diffusers that don't self-regulate also run out faster as compared to those with automatic shutdown.
How the diffuser is powered
When choosing which diffuser to purchase, you need to consider the powering system of the diffuser. Some diffusers are portable and come with an inbuilt rechargeable battery.
Such diffusers boost portability and allow you to move them from one place to the other. Other diffusers get power from AC power outlets around the home.
You can only use such diffusers when you are within reach of a power outlet. The length of the power cord on such diffusers also restricts where you can place the diffuser.
Maintenance care for diffusers
Some Nebulizing diffusers are made of small tubes that require extra care when cleaning. Observe care and use rubbing alcohol instead of water for cleaning to prevent the glass from becoming hazy.
Also, remember to keep up with the cleaning schedule to prevent the diffuser from getting clogged. Diffusers with a natural wood base may also require wood treatment from time to time to restore the lush look of the wood base.
Top picks of Nebulizing Diffusers for Aromatherapy Essential oils
---
This compact diffuser receives power from long-lasting lithium-ion batteries that have up to 8 hours of uninterrupted runtime when fully charged. Drawing power from a battery means that you can use this diffuser on the go, in your office, the car, or the gym.
The small-size packs have high atomization capability, which uses high-frequency vibration, thus enabling the diffusion of essential oils without heat or water.
The water-free diffusion ensures that you get the most out of your essential oil bottle with no dilution and makes the diffuser suitable for use around allergic persons as well as pregnant women. The Minidiva operates at under 2 dB noise levels and has up to 700 square feet of area coverage.
Pros
Battery-powered
Compact size enhances portability
Operates very quietly
Supports recharging via a USB cable
Cons
Not very powerful
Using the diffuser when recharging can damage it
---
The Scentcares diffuser takes advantage of converting fragrant oils into mist without diluting them, thus achieving maximum aroma generation. It comes with an advanced air pump, which boosts area coverage and operates quietly, allowing you to concentrate on a mediation session.
You can also enjoy uninterrupted sleep with the quiet running diffuser. The compact cylindrical shape fits inside a car's cup holder easily, allowing the diffuser's use inside the driver's compartment.
A small-sized lithium rechargeable battery powers the diffuser and supports recharging via a USB cable. It also features 3 intensity settings and an automatic shutdown setting to allow oil bottles to last longer. Scentscare guarantees this diffuser's high quality by covering it with a 3-year warranty cover and full-time customer service support when you purchase it.
Pros
Covered under warranty
Portable and fits in a car cup holder
Supports USB charging
Has auto-off function
Operates with no noise
Cons
It does not cover a wide area
Low-quality oils might clog the diffuse release ports.
---
This diffuser features a design with a natural wood base and a top glass cover that features a hand-blown glass reservoir. The unique design allows atomizing essential oils to produce amazing fragrances with no heat, water, or plastics involved.
The diffuser fills up aroma in spaces with 30-inch by 30-inch dimensions and comes with an inbuilt timer that shuts fragrance release after 4 hours automatically. Only 100% natural oils are recommended for use with this diffuser so as not to clog the narrow pathways.
Pros
Made of all-natural materials
It has nice aesthetics
It comes with an auto-off timer
Cons
Delicate parts can easily shatter when mishandled
Operates with a considerable level of noise
---
This diffuser is constructed using wood and glass materials that deliver amazing aromatherapy functionality by eliminating contamination from plastics, dilution by water, and interference by heat. It operates super quietly and only produces a negligible humming sound during operation.
The front features a 7 color-changing LED light that can be turned off or configured to blink faster or slower. The auto-off feature on this diffuser works by interchangeably diffusing oils in 5 minutes on and 3 minutes off intervals, then switching off after 3 hours.
Pros
The small compact size makes it easy to carry
Waterless operation
The materials used to construct it do not contaminate the oils
It fills up aroma even in large rooms
Cons
It does not last for a long time
Easily clogs
---
The UONE nebulizing diffuser features a wide natural wood base and a tall glass compartment at the top. It delivers aromas in their true natural form from natural oils with no water or heat.
You can operate this elegant-looking diffuser using the touch button conspicuously displayed at the front. It features color-changing LED lights with 7 color options and an automatic shutdown button that regulates the time the diffuser remains in operation.
The timer retains the diffuser for 2 minutes and shuts it off for 1 minute. After a 2-hour cycle, the timer shuts the diffuser off.
Pros
Bright LED lights light up rooms well
Operates quietly
Spacious glass compartment is easy to clean
Has wide area coverage
A release mechanism allows the use of oils for a long time.
Cons
You cannot run the LED light without running the diffuser
It continues running even when oils get depleted
---
Conclusion
After comparing the 5 top-rated diffusers, the Minidiva ranks top because it allows continuous operation for a long time and requires very little maintenance. It is also portable and pushes the essential oil aromas over a large area. We also like the Scentscare diffuser, but we view it as best suited for car owners. The minidiva can be used both in the car as well because it is compact. The other featured diffusers all have automatic timers, which limit the extended uninterrupted use of the diffusers. For this reason, we rank the minidiva diffuser top.