A sore throat is a common symptom of multiple illnesses and environmental irritants. Seldom is it your only complaint, but some people experience severe soreness. Using essential oils for your sore throat could be an effective solution to kill germs and reduce pain.
Essential oils pull double duty, reducing inflammation and treating the underlying cause when illness strikes. When unrelated to sickness, you don't have to worry about antibiotic resistance or taking medication your body doesn't require too.
---
In this article, we are going to review the following essential oils:
---
What Causes a Sore Throat? (source: MayoClinic)
The common cold
Influenza
Strep throat
Tonsillitis
Acid reflux
Upper respiratory illness
Laryngitis
Bacterial infections
Irritations, such as smoke and other allergens
Seasonal allergies
Side effect of coughing
The video above shows other symptoms, which can accompany your sore throat, and it can help you determine the severity. See a medical professional if your symptoms are severe enough to interrupt your daily activities or sleep.
What Essential Oil Healing Properties are Best for Treating Sore Throats?
Antiviral properties
Antibacterial properties
Antibiotic properties*
Anti-inflammatory properties
Antimicrobial properties
Boosting the immune system
*if the cause requires an antibiotic to treat
Antimicrobial and anti-inflammatory are essential here. First, antimicrobial will hinder the growth of bacteria, which your raw and sore throat will be susceptible to. Second, anti-inflammatory helps reduce pain and swelling. soure: Merriam-Webster
Add in antibacterial or antiviral properties, and you have the building blocks to treat the underlying cause, to prevent further harm, and to help you feel less discomfort naturally.
Best Essential Oils for Sore Throat and Their Properties:
Advantages of Essential Oils for Treating Sore Throats
One significant benefit to using essential oils for sore throats is you're reducing the amount of conventional medication on your system and not treating symptoms you don't have, e.g., most cold and flu medications cover multi symptoms.
Often you can use essential oils while waiting to see a doctor, and then continue treating afterward. In most cases, many essential oils can complement conventional medicine or exceed its effectiveness.

Is There Controversy With Using Essential Oils for Sore Throats Relief?
The FDA considers essential oils generally safe when used correctly. However, they don't regulate them.
Ingesting oils could be the largest controversy. It's important to note that just because an essential oil is organic or pure doesn't mean it's safe for you to ingest. Many oils are excellent for aromatherapy and topical use, but they can make you ill or cause severe health problems.
Before you ingest any oil, you should speak with a doctor or naturopath. Some oils are poisonous when ingested.
Soothe a Sore Throat – Essential Oil for a Sore Throat and Chest
Dealing with a sore throat can be a real discomfort, especially when it comes with symptoms like cough and cold. Many people use essential oils as an alternative way to soothe their sore throat.
Essential oils are natural extracts from plants that contain powerful compounds known for their therapeutic benefits. When it comes to finding an effective essential oil for a sore throat, you can use a pure essential oil in an essential oil diffuser to help alleviate the discomfort.
Essential oils can be used to address the root cause of a sore throat, providing relief and comfort. The use of essential oils to soothe your sore throat is gaining popularity due to their remarkable benefits.
These oils contain properties that help reduce inflammation, fight off infections, and ease the pain associated with a sore throat.
If you're experiencing a sore throat, consider using oils for a sore throat as a simple yet effective way to find relief and promote a speedy recovery.
What are the Most Effective Natural Remedies or Sore Throats?
Reducing inflammation fast is a major goal in controlling your sore throat. What method is best? It's more complicated since the answer is whichever way works for you.
Inhalation from bottle
Gargle
Added to tea or hot water and sipped
Diffused
Steam bath
Topical
In recipes, such as shower bombs, blends, and vapor rubs
Inhalation Method
This is the easiest method. It's also portable. You can inhale directly from the bottle or purchase a reusable inhalation device.
Gargle Method
1 drop of essential oil
1 teaspoon salt, apple cider vinegar, or raw honey
8 ounces warm water
Combine and mix thoroughly. Gargle as needed to relieve sore throat pain. Spit it out, and don't swallow.
Tea Method
8 ounces of boiling water
1 tea bag of choice (Earl Grey or green tea preferred)
1-2 drops essential oil that's safe for ingestion
Lemon, honey, apple cider vinegar, and/or ginger to taste
Steep tea as normal. Add essential oil and sweeteners as desired. Sip and enjoy.
Don't like tea? You can omit it and sip on the warm water. Some essential oils might pair better with soup too.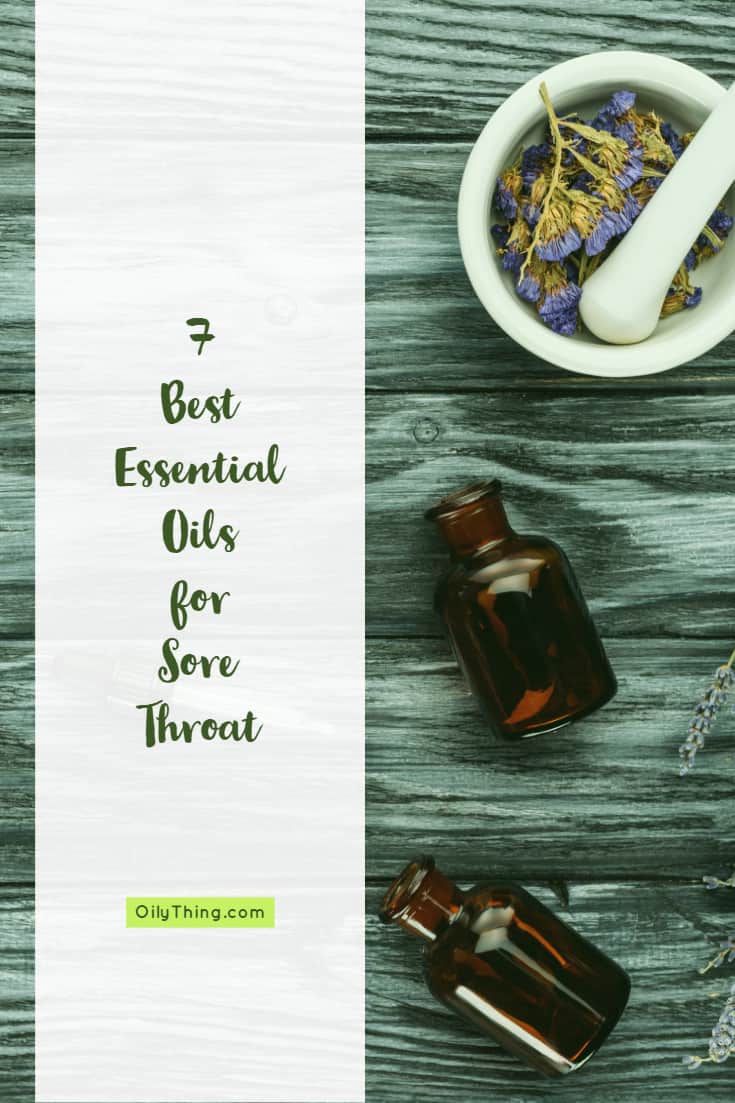 Diffuser Method #1
Add 10-20 drops of essential oil(s), depending on your diffuser size. Be sure to sit near the diffuser for at least 10-15 minutes. Repeat as necessary.
Diffuser Method #2
If you don't own an ultrasonic diffuser, you can fill a bowl with warm water and add 5-10 drops of your chosen essential oil or blend. Cover your head and bowl with the towel. Breathe in the vapors for 10-15 minutes. Repeat as needed.
Steam Bath/Shower Method
You can add 10 drops of your chosen essential oil to warm bath water. Soak for at least 15 minutes. Additionally, you can mix in ¼ of Epsom salts or make bath bombs.
If you prefer a shower, you can add a drop or two of essential oil to your soap or body wash. The steam and heat from the shower will help create vapors. Another option would be to make homemade shower bombs.
Topical Method
3 drops essential oil
1-tablespoon carrier oil
Combine oils and gently massage on the outside of your throat.
What You'll Need Before Treating a Sore Throat With Essential Oils
Perform an allergy patch test if you've never used a particular oil. The forearm is ideal. Wait at least 24 hours. If no reactions occur, you can use it.
Common Carrier Oils for Topical Use
Coconut oil
Jojoba oil
Olive oil
Avocado oil
Sweet almond oil
Dilutions vary, but a 1-3 drop ratio to 1 tablespoon of carrier oil is normal. Start low and work upward.
Recipes for Sore Throat Home Remedies
Coconut Oil Throat Bombs
1 tablespoon coconut oil
1 drop of essential oil safe for ingestion
Combine essential oil and coconut oil. Swallow whole. You can add a drop of honey or stevia for flavor.
Why coconut oil? First, it naturally coats and protects your throat. It also eases pain and inflammation to effectively soothe a sore throat. As an alternative, you can stir into tea, hot water, and broth. Source: NCBI
DIY Thieves Oil Blend
You can purchase premixed thieves oil blends, or you can make your own by following the video above by the English Aromatherapist, who has over 12 years of experience.
You'll need five favorite essential oils: cinnamon, lemon or orange, clove, eucalyptus oil, and rosemary. Lemon and orange essential oils have similar properties, and you can interchange them virtually in any recipe or blend.
These common essential oils might already be in your collection. If not, it's worth adding them.
You will use your blend as you would other essential oils, except it's not safe for ingestion. You can gargle with it. Also, be sure to dilute it properly for topical application.
Not a fan of thieves? One study tested three blends and their effectiveness against viruses, fungus, and bacteria. A blend of wild carrot, cinnamon, eucalyptus, and rosemary performed well against flu-related bacteria. source: NCBI
DIY Shower Bombs
1 cup baking soda
¼ cup distilled water
25 drops of essential oil or blend
Molds or ice cube tray
Combine baking soda and water. Mix in essential oils. Fill molds and allow to dry overnight.
You can make oil-free versions too by omitting the essential oils. Add 2-3 drops of chosen oil to your bombs right before use. This allows you to keep a batch on hand that's versatile for other applications.
To use, you simply drop one on the floor of your shower out of direct water spray. It dissolves and releases its fragrance into the steam.
7 Best Essential Oils for Sore Throat
---
Nature's Oil provides peace of mind and combines it with years in the industry. With them, you receive proper GC/MS testing, a USDA organic seal, and they go a step further with a third party verification.
Pros:
USDA certified organic
GC/MS tested
Clean, crisp lemon is the best way to describe this essential oil
Cons:
---
Healing Solutions provides therapeutic grade essential oils at affordable prices. They personally guarantee your satisfaction and provide you with a money back offer. They also distill and bottle in the USA, and they do claim to test their products.
Pros:
Conveniently packaged for home, office, and on the go use
No mixing, measuring, or worrying about making it yourself
Cons:
---
Despite claiming superiority to organics, Plant Therapy does have a USDA certified organic line too. They still provide their customers with lower prices and money back guarantees.
Pros:
Sweet and potent fragrance
Scents last
Cons:
Not organic
Some recipes might require less
---
Edens Garden quickly became a favorite of ours. They might not be organic, but they are a transparent company that aims to bring essential oils into households for daily use. From the botanical name to the country of origin to quality testing, the company is trustworthy and worth a try.
Pros:
GC/MS tested
Variety of available sizes
Comes with additional information on how to use and blending suggestions
Very strong scent
Cons:
Might need further dilution for topical and use in recipes
Not organic, but the company does a lot of third party testing
---
Gya Labs is a leading provider of holistic and natural healing products. They provide quality oils, and they have excellent customer service should you need to contact them.
Pros:
Great fragrance that lasts
Provides additional suggestions for further use
Cons:
Boxes often contain misspelled words
---
Eve Hansen monitors every step of their essential oil creation to ensure you receive a high-quality product without a hefty price.
Pros:
USDA certified organic so no guessing if it's real
Vegan, cruelty-free, small batch tested and made in the USA
A strong aroma that lasts
Cons:
The scent can be unappealing and might require less than recipes call for
---
Now makes excellent quality oils and offers you numerous guarantees on their product line. We love that they're a family owned and operated USA-based business. They also give back to the community and care about sustainability.
Pros:
Separate dropper for their generous 4-ounce bottles
Wonderful pleasant peppermint oil scent and not a generic mint scent
GS/MC testing provided
Tests their raw materials before they become essential oils
Cons:
Not certified organic, but their additional testing and transparency could make up for this.
---
Our Final Thoughts on Essential Oils for Relieving a Sore Throat
Choosing one winner is never simple. We look at the quality of oils and the company too. In the case of treating your sore throat, the best oil will depend on how you plan to use it. Ingesting a non-organic essential oil that's safe to take internally is a risk. However, if you plan to diffuse and use topically, it's less of a concern.
Nature's Oil Organic Lemon Essential Oil is our favorite for treating sore throats. It provides you with versatility in how you use it without worrying about purity. The healing properties go beyond the scope of treating multiple sore throat causes, including antibacterial, antiviral, boosting the immune system with vitamin C, and anti-inflammatory.
Lemon is also safe for pregnancy, breastfeeding, and children when used at a 1:3 dilution.
The next time your throat starts to hurt, reach for lemon oil or another great choice from our list. Remember to try nature first.