Our bodies' immune system is our defense in fighting infections, viruses, and bacteria. A strong immune system is vital for keeping healthy.
Essential oils are one natural way to boost your immune system and help your body ward off illnesses.
We'll take a look at the best essential oils for immunity to help keep you healthy all year long.
Table of Contents
What are Essential Oils
Essential oils are concentrated natural plant extracts.
They are derived from pressing or distilling plants and usually retain the plant's flavor and smell.
Each plant, and its essential oil, has unique properties that can have different effects on the body and immune function. (Essential Oils (nih.gov) )
The Advantages of Essential Oils for Immune System and to Boost Immunity
Essential oils have many beneficial properties.
Each oil has unique properties, but they overall serve to boost immunity, have antimicrobial properties, and help protect your body while smelling good and relieving stress.
Essential Oils Supporting the Immune System
Our immune systems will inevitably be compromised at one time or another.
Too much stress, whether from work or your personal life, lack of sleep, and an unhealthy diet, can all compromise our immunity.
Essential oils, together with a healthier lifestyle, can help boost the immune system and regain its strength.
Tea tree oil, for example, has antibacterial properties and is used to treat fungal infections such as Athlete's foot and thrush.
Lavender can reduce stress and improve sleep quality, which are both factors in immunity boost.
The lemon essential oil has strong antibacterial properties, contains many antioxidants, and can boost your mood, which reduces stress, and improves your immune system.
Eucalyptus oil's antiviral and antibacterial properties are powerful. Eucalyptus is used to treat respiratory tract illness.
Rosemary essential oils can mitigate joint and tissue inflammation by slowing down the white blood cells to injured areas, which can cause inflammation.
>> You may also want to read our article about essential oils for flu.
How to Use Essential Oils for Immune System Health
It's imperative to follow the instructions on each essential oil. Some are meant to be diffused to spread the pleasant aroma and purify the air, and others you can apply topically directly on your skin with a carrier oil.
If applying the oils to your skin, avoid sensitive areas such as your eyes, nose, ears, and any cuts or skin openings.
There are some use of essential oils that work well together and there are specific recipes that will instruct you on the blend of oils and the measurements.
For some that are having cold and flu, it is better to use the oil with a diffuser.
Cautions Before Using Essential Oils to Boost Your Immune System
Although essential oils are natural and were successfully used to stimulate the immune system for centuries, they can be harmful if they are abused or used incorrectly. Some people can be sensitive to some oils so go slowly when trying a new one to test if there is any reaction.
Always make sure you are taking the correct dosage and keep them away from children and pets who can be injured if they accidentally ingest too much of them. (Essential Oils: Health Benefits, Safety Information, Dosage, and More (webmd.com) )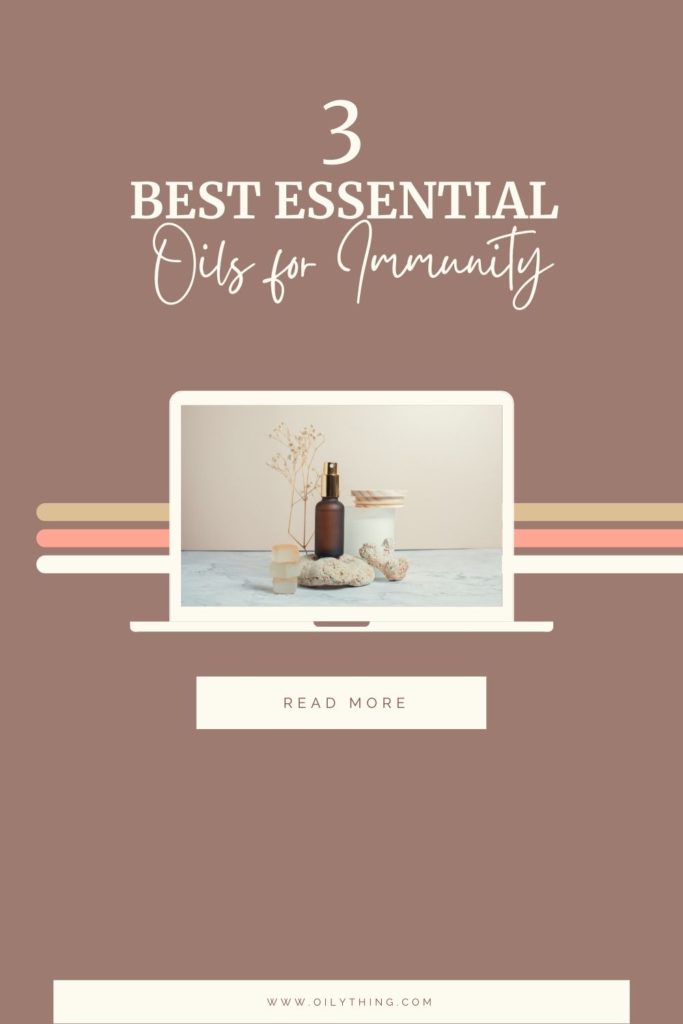 Product Reviews
If you're looking to start using essential oils to boost your immunity, try one, some, or all of these choices.
---
This essential oil collection includes the eight most popular oils for immune health: peppermint, lavender, tea tree, eucalyptus, rosemary, lemongrass, frankincense, and orange.
The oils come in a beautiful box, making them a perfect gift idea. I wish I had thought to give this for my friend's birthday.
Pros:
The oils in this set have pleasant aromas.
This product contains all the most popular oils.
It includes recipes that are very helpful to beginners.
This set is beautifully packaged.
The oils are organic and natural with no additives.
Cons:
This set's lemon scent isn't as pleasant as it could be.
Each bottle contains just a small quantity.
---
This product includes six bottles of immunity-boosting essential oils blends. Each bottle is specifically formulated to serve a specific function and contains a mix of eucalyptus oil, tea tree, laurel leaf, cardamom, pine, lemon, clove, rosemary, camphor, orange, lemongrass, and more.
Pros:
The blends in this set have a delicious scent.
The oils are pre-blended for specific results, so you don't have to blend them yourself. This would have been great for me when I first started using them.
The packaging is nicely designed.
Cons:
The oils are already blended, so the scents are as-is. If you don't like the scent of some of the blends, it's hard to improve it with additional oils.
---
This product includes six bottles of immunity-boosting essential oils blends. Each bottle is specifically formulated to serve a specific function and contains a mix of eucalyptus essential oil, tea tree, laurel leaf, cardamom, pine, lemon, clove, rosemary, camphor, orange, lemongrass, and more.
I would vouch for these oils on their immunity-boosting properties, but don't condone the thieving!
Pros:
The scent in this blend is different than other typical oils, and the cinnamon is most prominent. You may find it to be a deep woodsy, but comfortable aroma.
It's a good quality oil, and a small amount goes a long way. The bottle will likely last you a while.
Con:
The ingredients in this oil can be toxic to cats, and we don't recommend anyone using this blend if you have cats in your home.
---
Conclusion: Best Essential Oils for Immunity
There are many essential oils on the market, from individual extracts to a variety of sets and pre-blended oils. While the blended oils have the advantage that you don't have to mix the different oils together to get all of the properties that you want out of the oils, we find the benefits of the individual oils are far greater.
With the Cliganic Aromatherapy Essential Oils set, you can use one type of oil or combine a few as you want to get the combined benefit of immunity support. Use the rosemary's anti-inflammatory properties to improve circulation and help relieve joint inflammation. Or the lemongrass for its antiseptic and antibacterial properties. Or combine them and other essential oils to make a powerful immune booster that will keep you feeling well all year long.