Snoring disrupts more than those resting around you. Causes and risk factors for snoring vary as widely as the tricks and gimmicks to cure it. This is largely because the reason one person snores could be different from why you do. Could essential oils for snoring ease you toward a more restful sleep?
Why Do You Snore?
Whether essential oils or other natural treatments will work depends on the underlying cause of your snoring. According to the Mayo Clinic, five causes and six increased risk factors for snoring exist. Source: MayoClinic
Causes of Snoring
Mouth shape
Alcohol
Nasal shape
Lack of sleep
Sleep position
Risk Factors that Increase Likelihood of Snoring
Sex
Weight
Airway size
Alcohol
History of nasal issues
Family history, especially if a relative has obstructive sleep apnea
Snoring could also be a temporary side effect of sinus-related sicknesses and upper respiratory infections. Source: Mary Ann Liebert, Inc.

Why Snoring is Dangerous
Snoring at night can lead to issues that arise the next day caused by your lack of deep sleep. It can affect your cognitive ability and mood, but also it increases risks for high blood pressure, stroke, and other heart-related conditions.
In children, behavior issues and learning problems could occur. These can also be noticeable in adults through a severe lack of focus, quick bursts of anger or frustration, and a diminished thought process.
What to Look for in an Essential Oil for Snoring
Unlike illnesses, you're not looking for specific activities, such as antiviral or anti-inflammatory properties. You'll want strong scents that promote mental relaxation, but you don't want muscle relaxation since that can cause snoring or make it worse.
Other benefits the oils for snoring below have include respiratory system support, clearing nasal passages, and boosting your immune system.
Best Essential Oils to Reduce Snoring
Sage
Eucalyptus
Thyme
Tea Tree
Lemon
Mint
Lavender
Cedarwood
Marjoram
Sources: Taylor & Francis Online and Organic Facts
4 Ways to Use Essential Oils to Stop Snoring
Inhalation
Ultrasonic diffuser
Homemade chest rub
Gargle
You have options here on how to use your essential oils, and the best method will be the one that works for you.
You have two options for inhalation. The first requires a special device or sniffing your essential oil straight from the bottle.
---
The second uses boiling water, a bowl, towel, and about four drops of essential oil. The relaxing facial pulls triple duty as the steam opens your pores. It allows the essential oils to enter your skin and the volatile compounds to work properly, it adds an aromatherapy session, and it can relax you before bed too. Source: FoundHealth
Ultrasonic diffusers release oils into the air. Of course, they work wonders for humidifying and cleansing the air. They also double as an aromatherapy device. This might be a good application method to try if you have nasal allergies.
---
However, diffusing essential oils in an ultrasonic machine can be harmful to pets, depending on the oils used. Err on the side of caution and remove pets from areas you're diffusing oils unless you know they're safe. Source: Vetstreet.com
3. Homemade Chest Rub, Oils, or Creams
The consistency of your rub is more preference. Some people prefer a vapor-rub consistency where others want a massage oil. We're including recipes for each, but you should be sure to keep small jars or tins on hand for the chest rub; it makes a generous portion.
Snore No More Salve Recipe
Feel free to switch out the essential oils with other ones on the list, but do so at your own risk as this alters the scent. You can essentially use 40 drops of a single essential oil too, but blending essential oils can create a more restful slumber and pleasing aroma.
Ingredients:
½ cup of carrier oil of choice, like jojoba, sweet almond, olive oil, or coconut oil
2 tablespoons of beeswax or vegan alternative like candelilla, grated or granules
20 drops of lavender essential oil
20 drops of lemon essential oil
10 drops of eucalyptus essential oil
10 drops of sage essential oil
Small glass or metal containers for storage
Directions:
Melt the beeswax on low using a water bath, double boiler, or a hot plate. You can use a microwave, but be cautious and use short intervals of 15 seconds.
After your wax melts, remove from heat and slowly whisk in your chosen carrier oil.
Add essential oils of choice.
Pour into containers and allow to cool completely before using.
To use your salve: apply a small amount to your chest and upper lip before bedtime.
Snore Stopper Massage Oil
You can make a larger batch, but we find it best to make this nightly before bed as needed for a more restful night of sleep.
Ingredients:
3 tablespoons of carrier oil, such as jojoba or sweet almond
A few drops of your chosen essential oil from the list
Directions:
Mix oil and essential oil in your palm. Two-three drops is a good ratio. If you have sensitive skin, increase the carrier oil by a tablespoon.
Gently massage into your upper chest before bedtime.
No Snore Moisturizing Cream
This vegan friendly recipe doubles as a moisturizing cream, which can do wonders for dry skin. It also requires no heating. You can apply it to your face and body as you would a moisturizer, but be careful to avoid your eyes, nose, and mouth. You can use it exclusively on your chest too.
Ingredients:
½ cup of coconut oil
¼ cup of shea butter
70 drops of your chosen essential oil from the list or a blend similar to the salve recipe
Directions:
Combine coconut oil and shea butter in a bowl. Whip until well combined.
Slowly add essential oils.
Blend your lotion again to ensure oils are well combined and distributed.
Place into a large container or multiple smaller containers for storage.
To use your cream: apply a small amount to your chest. Massage it into your skin.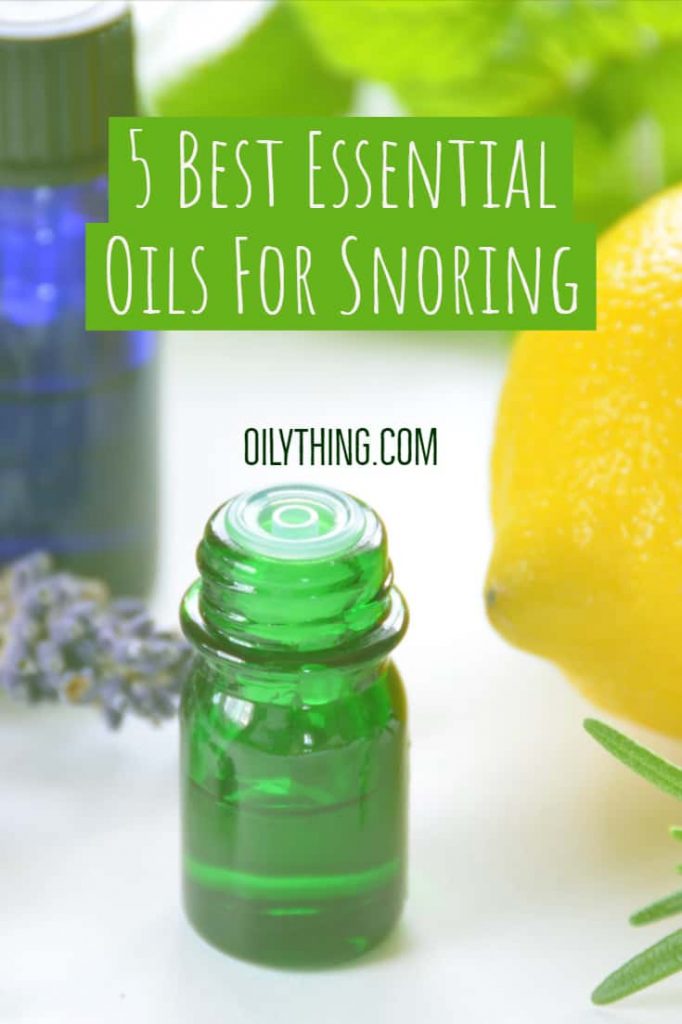 4. Gargle
Studies supports these two methods alleviate snoring. Please be sure your essential oil can be taken internally in case of accidental swallowing. Source: Wiley Online Library
Snore Be Gone Gargle Recipe
Ingredients:
Glass of warm water
½ teaspoon of salt
2 drops of thyme essential oil
Directions:
Combine all ingredients.
Gargle mixture for one minute
Spit it out
Address the Underlying Cause
You can search the web for countless snoring remedies. Maybe you've tried them and failed time after time. It could be that you need to address the underlying cause.
While you can't easily address every single cause, you can address some such as weight. Allergies is another leading reason. Using essential oils in the meantime might assist you in improving your sleep quality until you've reached your goal or eliminated the cause. Source: National Sleep Foundation
Studies also link snoring to an increase in risk factors for disease, especially heart disease. Source: The BMJ
Concerns with Using Essential Oils and Home Remedies to Ease Snoring
The largest concern is if you have undiagnosed obstructive sleep apnea. This condition requires a medical diagnosis and sleep study to confirm, and you might require special treatment or surgery. Essential oils might compliment conventional medicine, but they can't replace it in these types of cases. If you have a family history of the disorder, you should speak with your doctor. Source: National Sleep Foundation
5 Best Essential Oils to Reduce Your Snoring
With nine essential oils to choose from narrowing down the list wasn't easy.
---
Nature's Oil is a trusted brand in the essential market thanks to their transparent third party testing and organic certification. You will receive what you want without risk of purchasing a knock-off or low quality product.
Pros:
Certified USDA organic
GM/CS tested and verified
Multiple size bottles
Cons:
European style built in dropper can make it difficult to measure large amounts
Therapeutic grade and not suitable for internal use
---
Eden's Garden is a brand we've come to love. They offer testing transparency so that you know you're buying a real essential oil. The company also donates 10% of their profits to charities.
Pros:
Value pack and other sizes available
Strong, bright lemony scent
Third party tested and verified
Cons:
Not organic
European style droppers can become clogged
---
Handcraft ethically sources their ingredients. It's a claim few essential oil companies can make and support.
Pros:
Glass dropper is great for larger measurements
Third party tested
Bottled in the USA and ethically sourced
Cons:
Not organic
Scent may fade quickly, but the benefits of using the oil don't
---
Edens Garden delivers a high quality blend perfected by on staff aromatherapists. You receive all the guarantees as you would with the single oils, but you don't have to worry about making your own blends. Can be used in conjunction with their Good Night blend.
Pros:
Unique blend of four powerful anti-snore essential oils: lemon, peppermint, eucalyptus, and rosemary
Works well for allergies or sinus infections
Great for traveling
Cons:
If you're experienced with mixing your own oils, you might prefer a custom blend
European style droppers clog easier
---
Zongle Therapeutics provides quality and security with their extensive line of essential oils and products.
Pros:
Certified USDA organic
Bottled in the USA
GS/MC tested and tested for microbial compounds
Can be taken internally
Cons:
No dropper, but this could be a pro for some people too.
---
Final Thoughts of Using Essential Oils for Snoring
Understanding why you or your partner snores is important. Some underlying causes are harmless, but if you have a history of sleep apnea in your family, you should speak with your doctor.
It was difficult to choose a single winner among the best essential oils for snoring. Sleep conditions and their causes can vary widely from person to person, but we felt the Breathe Easier 100% Pure Therapeutic Grade Synergy Blend by Edens Garden would be suitable for multiple sleep related conditions from stress to insomnia to snoring to anxiety.
We wish you a more restful, snore-free sleep.