In this article, we will discuss a list of essential oils for itching.
Itchy skin can be one of life's more embarrassing problems.
You're sat in a meeting with your colleagues and you get the urge to scratch somewhere you really shouldn't in public.
Fortunately, essential oils offer a quick home remedy with few side effects.
Let's take a look at which essential oils for itching are most effective before choosing a few of our favorite anti-itching oils.
Know Your Enemy: What is an Itch?
Also known as pruritus, itching is basically a general sensation that arises from the nerves or irritated skin cells.
Pruritus involves activation of specialized nerve cells called c-fibers which carry itch signals to the brain and causes a reflex of rubbing or scratching.
[1] Although scratching the affected area will break that signal, it's only temporary and may cause the itching to get worse or aggravate inflammation of the skin cells.
What Causes Itching?
Unfortunately, there are many factors that will cause itching. This includes toxins on the skins which may be an allergy or touching grass oils, poison ivy and any similar poisonous plant.
Diseases and infection are the other main cause, with certain diseases like rare forms of skin cancer being to blame. Fungal infections that will cause itching include athlete's foot, hemorrhoids, eczema, jock itch or chickenpox.

Scabies, bed bugs, fleas, lice, ticks, and mosquitos will all cause some serious itching. Other causes of irritated skin can even include the jewelry you are wearing, the dye in your hair or some clothing materials–neoprene is known to irritate many peoples skin cells. And of course, sunlight, something we all find hard to avoid is known to cause skin irritation, sunburn, and itchiness.
Essential Oils for Itching
Several essential oils have been shown by research to be effective at reducing or relieving the itch of irritated skin. [2] While some may have antimicrobial properties that make them effective for treating the infections that scratching can cause, others have anti-inflammatory properties which can be used to calm down irritated skin or help with itchy bug bites.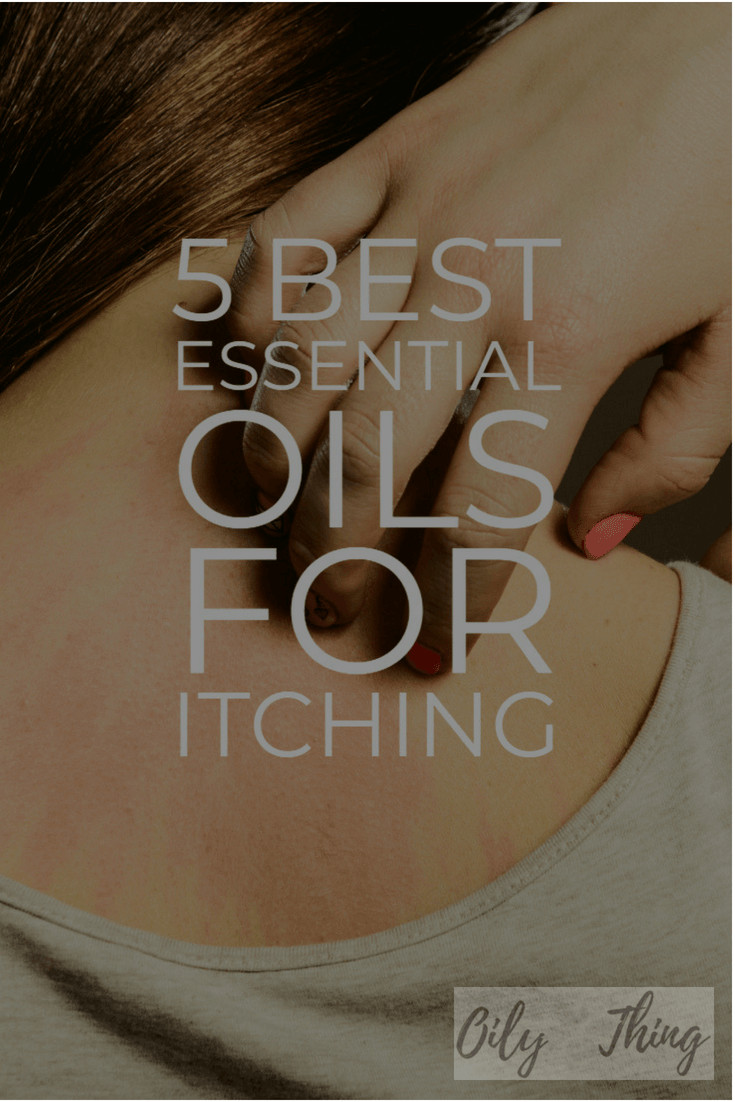 Oils including lavender essential oil, coconut oil, peppermint oil, jojoba oil and many others are known to be an inexpensive and effective treatment for itching relief and multiple skin conditions. [3] They also cause fewer side effects than many traditional medications. You can even use essential oils to stop itching on your pet dog as seen in the following YouTube video.
The 5 Best Essential Oils for Itching
If you have been searching for an effective method of itch relief fear not as we have done the tough work to find you five of the best oils for itching, in our opinion. Always try to choose a pure, high-quality organic oil like those we have looked at below. Adulterated oils may contain unknown ingredients or chemicals likely to cause an unwanted reaction.
---
Description:
Tea Tree oil is loaded with antibacterial, antifungal, antiseptic and anti-inflammatory properties. Diluted tea tree oil can be used directly on the skin to control hives or to calm down the itching of eczema or psoriasis. As an antifungal tea tree oil can also be effective for treating athlete's foot.
Pros: Good for skin and the scalp, Great for your nails too.
Cons: Many complaints of the odor being too much like Pine Sol.
Details:
4 Fluid Ounce bottle of undiluted steam distilled Melaleuca Alternifolia–100 percent tea tree oil.
Can be used directly on the skin, in shampoo or even in a diffuser.
Perfect for acne, psoriasis or eczema as well as general itchiness.
---
Description:
The antifungal properties of Lavender oil make it ideal for treating conditions like jock itch, athlete's foot or ringworm. You can also use it to soothe the stinging or itching of many bug bites.
This 100 percent pure Lavender essential oil is manufactured in an FDA approved facility and is totally paraben and sulfate-free. Every essential oil manufactured is tested by an independent lab to ensure the best constituents.
Pros: Amber bottle to protect against UV rays and oil losing its potency, Blends well with other oils.
Cons: Lavender odor can be too strong for many people–smells like cheap perfume.
Details:
100 percent therapeutic grade Lavender essential oil.
Paraben and sulfate free.
4-ounces quality glass bottle with premium dropper.
---
Description:
This 100 percent Myrrh is one of the best smelling essential oils on the market. And it's an effective home remedy for itch relief.
Loaded with natural antiseptics, antioxidants, and healing properties, Myrrh oil is a perfect solution for dry skin, chapped skin or itchy skin. It not only helps to reduce rashes or stretch marks but can also be used to treat hives.
Pros: Pleasant earthy aroma with hints of woodiness, Effective at healing irritated or dry skin, Can improve general skin condition including elasticity and wrinkles.
Cons: Rare essential oil so considerably more expensive than many others.
Details:
Rigorous quality testing FDA approved and Kosher certified.
100 percent pure Myrrh in a 60:40 ratio with Jojoba oil.
5 ml bottle of therapeutic grade oil.
---
Description:
Another biblical oil, Frankincense is one of the world's most famous skin tonics. As well as improving your skin tone, Frankincense works to prevent itching from happening in the first place. The increase in elasticity of the skin combined with the antioxidant effects helps to prevent infection and rid you of old or unhealthy skin cells that cause itching. Used with a carrier oil like coconut oil, the effects can be very quick and long-lasting.
Pros: Larger bottle than many other manufacturers, Unrefined virgin oil from India, Can be used in a diffuser as a relaxant and to aid breathing.
Cons: Scent doesn't seem to be as potent as some smaller bottles.
Details:
The 4-ounce bottle of Frankincense Oil comes with a 10 ml. bottle of Signature Chi Blend and a 10 ml. bottle of Zen Blend.
Paraben and cruelty-free.
Can help heal eczema, acne, psoriasis, and even dandruff.
---
Description:
Essential oils in this ointment have antimicrobial properties that can act against bacteria, viruses, and fungus. Plus you get the advantages of tea tree, lavender and eucalyptus oils to penetrate and moisturize your dry skin.
Pros: Beeswax and olive oil base stay on the skin much longer than other essential oils, Potent antifungal treatment, All natural ingredients.
Cons: Expensive–could be cheaper to make your own blend, Doesn't absorb quickly and can feel greasy.
Details:
All natural ointment for stubborn itching and fungal conditions.
Stops irritation of the affected area and prevents it from spreading.
---
Our Choice
Itching may often seem like a relatively harmless condition, especially when you can treat it quickly at home with any of the essential oils we have looked at and more. In our opinion, the Pure Body Naturals Tea Tree Oil with its antibacterial, antifungal, antiviral and anti-inflammatory properties make it ideal for itching relief. However, if the itching doesn't clear up with a home remedy, it could be more indicative of a more serious health complaint. Always seek the help of your doctor who will help to identify the underlying cause, even if it is a bit embarrassing showing off those rashes.